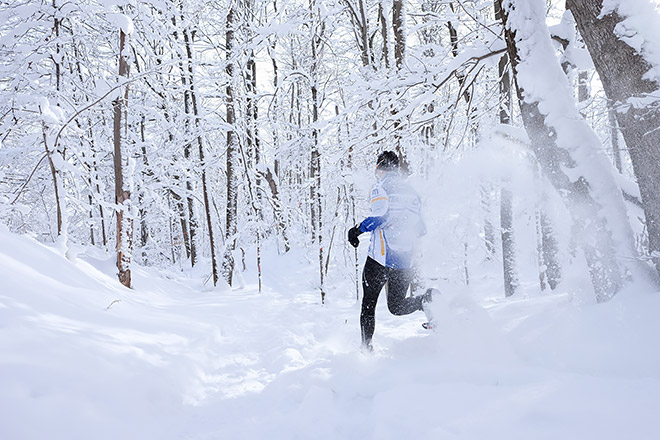 The temperatures have dropped and the fluffy white stuff is on the ground. I'm not happy about this, but yes winter has arrived. It's time to start thinking of what to wear so that you can continue to enjoy the great outdoors and not run (pun intended) to the stale-aired indoors on the treadmill or the indoor track – although they may have their place throughout the winter, I would rather be outdoors enjoying the fresh, crisp air.
For most of your long runs or base mileage, running outside in the winter can still be a viable and refreshing treat, compared to the heat and humidity we get throughout the summer months. You just need to be prepared.
1 – Proper Apparel
Don't dress to be warm as soon as you step out of your house – dress to be a little cooler as you will be warming up quickly during your run. Wear breathable, warm clothing and layer up. Depending on the temperature, you may choose to wear the following:
Base layer (moisture wicking and/or merino wool).
A moisture wicking short or long sleeve shirt.
A waterproof or water/wind resistant jacket – reflective especially if running in the dark.
Gloves or mitts (which will keep your hands warmer).
A hat or Buff Headwear.
Moisture wicking or merino wool socks such as Icebreaker or Smartwool.
Use hand warmers if it's really cold.
2 – Proper Footwear
You can use the same shoes you use in the warmer times, however, having either a Goretex or waterproof version is always nicer in the winter. They will sometimes also have a little more rugged of a sole. If your shoe doesn't come in a winterized version, and you are switching brands or models, make sure it works for your biomechanics. I will sometimes use a trail running shoe for my winter running. I have always loved my Salomon; rugged outsole for the grip on the snow, tighter upper weave for the protection from the elements, and overall comfort and lightness. Also, check out YakTrax, they are like snow and ice chains for your shoes!
3 – Safety
Wear reflective bands and vests or clothing, so that drivers can see you coming. Fuel Belt has a great collection, that you have to see (yes another intended pun).
Use head lamps, such as Petzl or blinky lights.
Warm up inside if you can. Jump rope, run some stairs, do Jumping Jacks, to get a light sweat going before heading outside.
If you are asthmatic, start off slowly, bring a puffer and be extra careful.
Run with a buddy for safety, as well as a early morning motivation.
Beware of slippery sections on sidewalks and roads.
Carry ID with you (this is for anytime you are out alone or with training partners). Check out RoadID for their identification pieces.
Run smaller loops, so you are always close to home in case of an emergency, it's unbearable or a storm comes in quickly.
4 – Miscellaneous
Get out of your wet clothes as quickly as possible, so you don't have to worry about your body temperature dropping quickly.
Don't worry about speed – that's when the treadmill or indoor track come in handy – your footing could be compromised with the ice and snow.
Meet up with a friend or a group to keep you motivated from cutting off your last couple of kilometres or possibly not even showing up.
Use Vaseline on your hands and face to protect from the elements and chaffing.
You still need to hydrate in the cold.
Keep your liquids under your jacket, if possible, to avoid it freezing or use an insulated bottle or pack.
Stay warm and be safe this winter.